The SCOPE 2023 Summit was a major success, with attendees from all over the world gathering to learn more about the latest developments in the clinical trial industry. The event was full of memorable moments, from keynotes, workshops, and demos to the SCOPE 2023 Best of Show Winners announcement.
What is SCOPE?
SCOPE Summit is an annual conference held in sunny Orlando, Florida for over 3,000 industry professionals. It is the leading forum for clinical trial stakeholders to discuss the challenges and successes of globalization and localization of clinical trials. Attendees have the opportunity to network and reconnect with old colleagues and friends and enjoy the beautiful weather that Orlando offers.
At this year's SCOPE Summit, industry professionals were able to explore best practices and strategies for optimizing clinical trial design, patient recruitment, regulatory considerations, data-driven insights, and more. Attendees had a chance to meet many new companies that are moving the needle for clinical trial access and execution. We hosted a Community Research Site Reception that provided the opportunity to tour the site and talk to the team about use cases. At the end of the conference, five companies were awarded the Best of Show winner in recognition of their innovative approach to the clinical trials industry.
Overall, SCOPE Summit is a great place to learn, network, and be inspired by others in the clinical trial industry. It provides a unique opportunity to share experiences and find new solutions to the ever-evolving challenges in clinical trials.
During the SCOPE 2023 Summit, we held a Community Research Site Reception giving potential and existing partners a hands-on experience with the site. Over 100 guests attended the reception and more than 75 took tours of our mobile site. Everyone enjoyed light hors d'oeuvres and drinks while they toured the site. During the reception, we had a chance to meet with top industry leaders and learn more about how they are helping to advance clinical trials in their communities. We discussed the importance of collaboration between research sites, sponsors, and CROs to drive innovation and DEI in clinical trials and how these partnerships can benefit all involved. The reception was a great opportunity to build relationships and foster better outcomes in clinical research.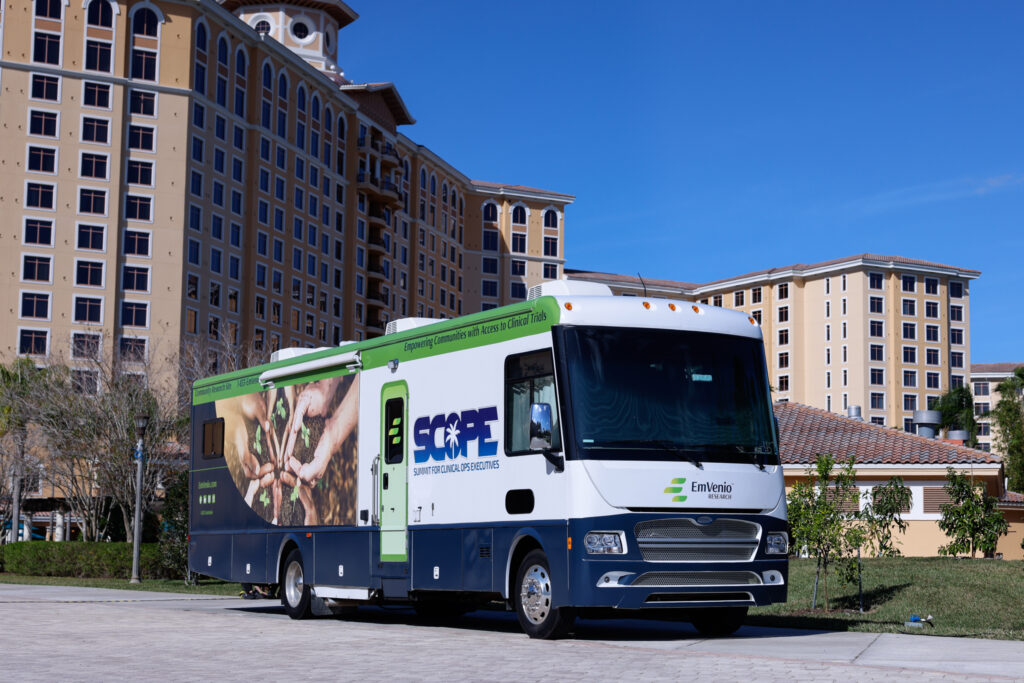 2023 offered the inaugural Best of Show awards seeing 38 submissions compete for the top honor. After careful consideration, SCOPE attendees decided on the top 5 entries, the best new products in the clinical trials and research space. Out of the 38 submissions, the top honor went to:
EmVenio, Anju Software, Medidata, StudyKIK, and uMotif for their ground-breaking products that are transforming the clinical trial industry. It is exciting to see so many teams embracing innovation and pushing the boundaries of what is possible in this space.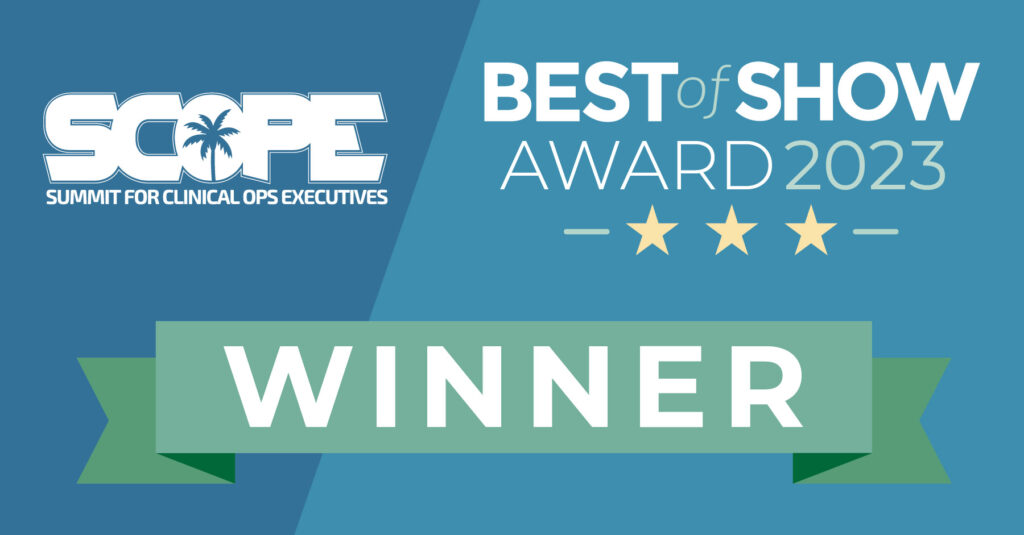 To end a great week, our President, Thad Wolfram presented to over 40 people during the lunch send-off track. The presentation was held on the heels of the DTRA panel and discussed how EmVenio is localizing clinical trials with our Community Research Sites to bring access to diverse and underdeveloped areas. Wolfram emphasized how this will make clinical trials more accessible and provide a greater range of participation from different backgrounds and communities.
The SCOPE Summit 2023 was an incredible event that brought together industry professionals from across the world to discuss the current state of clinical trials and what lies ahead. The energy at the conference was palpable, with each speaker presenting new and innovative ideas on how to best move the field forward. We left the summit with a sense of excitement and anticipation for the future of clinical trials, and we're already looking forward to next year's summit.
We look forward to continuing to collaborate with our peers to continue driving progress in the field.
Are you interested in partnering with us to support clinical trials? Please don't hesitate to reach out if you have any questions or inquiries about potential collaborations!